Geology 4691 has 12 dual boot Mac mini's, currently running windows 10 and macOS Mojave.
These computers can be used with your EPSS account.
The computers boot into the last OS that was selected by default, so to change OS, you should restart the computer, holding the option key, to launch bootcamp. (bootcamp is apple's boot-loader, and allows you to tell the computer which OS to use when starting up.)
After you have booted into macOS, you will see a row of user accounts. if you do not see a gray circle named "other" you should wait a moment, the Mac needs to connect back to the account server.
Once it appears, click "other" and log in with your epss account credentials.
This will generate a local user account for you on that machine.
IMPORTANT:
On the Windows machines, your desktop, downloads, documents and other folders are automatically synchronized with the server when you log out. This DOES NOT HAPPEN on the Mac side.
You will need to click the blue globe in the dock to access your network storage.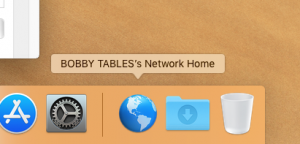 This is the same share that is listed as your U:/ Drive on the windows machines, and this is accessible across platforms.